I've got to hand it to Grandstream—the sheer number of new, 'next generation' products the company has rolled out in the span of a year is impressive.
The GXP 1400 / 1405 (1405 supports integrated PoE, 1400 does not) is Grandstream's new super-affordable 2-line, 2 SIP account HD VoIP phone. It features a 128x40 graphical LCD, two LED line keys, and 3 XML-programmable, context sensitive soft keys. It also includes most, if not all of the specs you'd find on other, more expensive VoIP desk phones: a hands-free speakerphone, a headset jack, etc. Now, just how affordable are we talking about? The GXP 1405 has a list price of $65, but we were able to find it available from some online vendors for a little over $40 (wholesale pricing), making it the most affordable phone we've ever tested and reviewed.
Note that Grandsteam actually released an even more affordable model, the GXP 1100/1105, a single line (1 SIP account) HD VoIP phone with no graphical display and no speakerphone, among other things. The GXP 110X can be found for $32-$34 and would work great as lobby / waiting-room phones. I would, however, highly recommend upgrading to the GXP 140X or higher if you're in the market for a phone that will sit on your desk. The extra ~8 bucks is a small price to pay for the added benefits of line keys, a graphical LCD, speakerphone, etc.
Phone Configuration
The following instructions assume your phone has successfully booted and completed network configuration including obtaining valid IP addresses for itself, an IP gateway and DNS servers either via DCHP, manual or other means and that your phone is running with factory defaults.
Each user has a set of credentials which will be needed to configure each phone. For each phone that you are configuring, obtain the following:
SIP Address (Address of Record)
SIP Password
Auth Username
Username
Proxy/Domain
If you are an OnSIP customer, you can find this information in the user detail pages under the Users tab in the Phone Configuration section.

After your phone is powered on and connected to your LAN, you will need to find the IP address of your phone.
You can do this easily by hitting the 'NextScr' key (this should be the first context sensitive 'soft key' underneath the LCD screen) until you see the IP address. Enter the IP address into your Internet browser. The default password on the webpage you see is 'admin'.
Select 'Accounts' from the top navigation. The Grandstream GXP1405 allows for two SIP account registrations so simply repeat this step if you're setting up more than 1 account.
Enter in your SIP account credentials as follows:
Account Name = your choice
SIP Server = Proxy/Domain
Outbound Proxy = sip.onsip.com
SIP User ID = Username
Authenticate ID = Auth Username
Authenticate Password = SIP Password
Name = your choice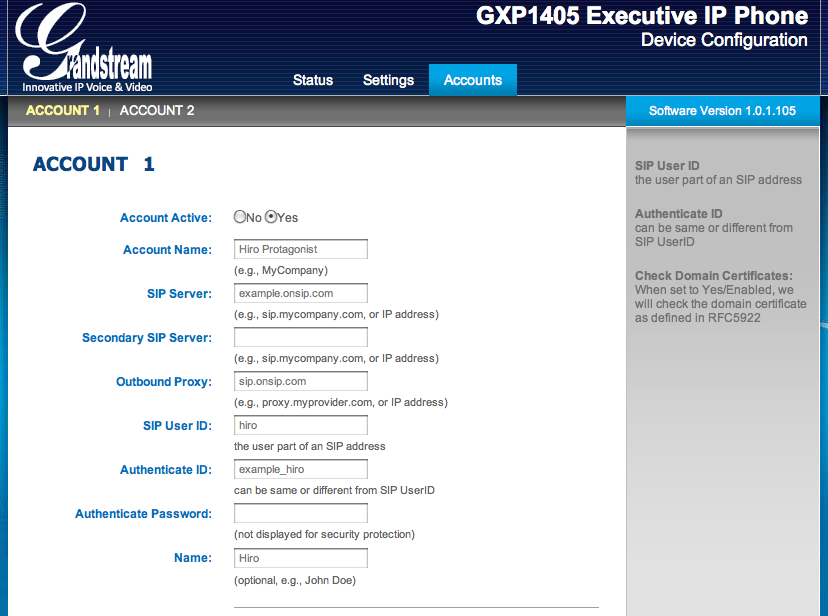 Scroll down until you see 'Preferred Vocoder' to prioritize audio codecs. Hit the 'Update' button, then 'Reboot' and your phone should be configured.

Provisioning a SIP account on the Grandstream GXP1405 was quick and easy. All the necessary settings were on one page, and the reboot process finished in under a minute.
JN Testing
At Junction Networks, we put each of the phones we use through a multi-step interoperability test in which we apply ~30 test cases. An example of a test case would be the following:
Test phone calls phone B

B picks up

B puts Test phone on hold

B calls phone C

C picks up

B transfers test phone to C

Call must be transferred correctly to C. B must be released correctly after the transfer. When C picks up, audio must work in both ways between test phone and C. When test phone is on hold, there is no audio between it and phone B.
[Software Version 1.0.1.105]
The GXP 1405 passed our interoperability tests with no issues.
Voice Quality
Like most desktop VoIP phones, the Grandstream GXP 1405 supports the standard audio codecs: PCMU, PCMA, G.729, etc. The phone also supports the G.722 wideband codec for high-def. The audio quality on an IP call with another device or user agent that supports G.722 is very good. Not quite as crisp as a call between two Polycom phones but still impressive, all things considering. Please remember that you will only get high definition audio on IP calls- calls that do not traverse the public switched telephone network. For OnSIP customers, this means all SIP calls, extension-to-extension calls, and conferencing.
The speakerphone on this phone does not disappoint. We've used speakerphones on phones that cost 4 times as much as the GXP 1405 that performed half as well. I wouldn't necessarily recommend walking around your office while using it, but if you're simply planning on having a hands-off conversation from your desk, this phone should be more than up to the task.
Ease of Use
The GXP 1405 is lightweight and compact. Depending on what you're used to, the hardware quality may leave something to be desired. For example, the base and handset could feel a bit hollow to you if you're accustomed to the thicker plastic found in Polycoms.
The phone has dedicated hard keys for your main call handling functions- hold, transfer, conf, and mute all have their dedicated keys. It uses context sensitive soft keys for features such as call forwarding and redial. Other common settings such as DND are hidden away deep within the phone's menus.
Like most standard IP desktop phones today, the Grandstream GXP 1405 features a navigation wheel, a central button with 4 directional keys surrounding it. Pressing the center button takes you to the phone's main menu, where you can view your phone's status and call history, make a direct IP call, check SIP instant messages, or configure your phone's preferences and account settings, etc. By default, the left directional arrow is a 'back' button. The up directional arrow takes you to your missed calls, and as far as I can tell, both the down and right directional arrows take you to your contacts list. There doesn't seem to be a way to customize these directional arrow shortcuts within the Grandstream web interface.
The graphical LCD is not backlit and allows only 2 menu items to be displayed at any time, which may make navigating through the phone's menus a less-than-ideal experience.
Usage notes:
Many IP phones automatically dial an 11-digit phone number after you enter it. As far as we can tell (there may be some setting within the menus that we overlooked), the Grandstream GXP 1405 does not. After you enter a number, you need to press the small phone icon near the bottom right hand corner of the phone to get the call going. You will also need to hit the phone icon when you're conducting a 'blind' transfer.