Choosing the right IP Phone for your business is a critical step for new customers who want to take advantage of all the advanced features a Hosted PBX can offer. At OnSIP, we stick to a Bring Your Own Device (BYOD) policy, giving our customers complete freedom over what type of phones they implement.
But we do maintain a VoIP Phone Review section on our site to give our customers objective reports on popular phone models. With all the phones on the market, it can sometimes seem daunting to pick the right one. That's why we've narrowed it down a bit by choosing the Top 5 IP Phones to go with your business phone system.
Polycom SoundPoint IP 550
The Polycom SoundPoint IP 550 is one of the best phones sitting in our labs. It delivers the best in handset and speakerphone voice quality, a customizable XTHML interface, a glossy 320x160 backlit LCD screen, and more features than we can cover.
Although we prefer to think of ourselves as neutral and invite you to bring whatever hardware you want to our service, in the back of our minds, we're kind of secretly hoping you're bringing a fleet of 550s. Don't tell anyone.
Grandstream GXP2140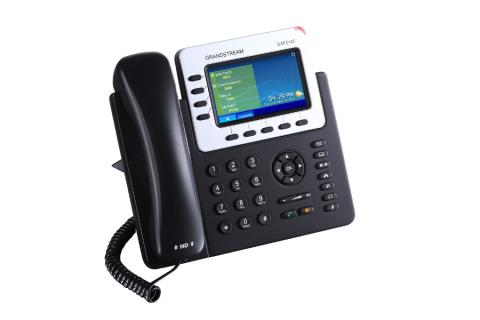 On the hardware side of things, the Grandstream GXP2140 features a maximum of 4 lines, a 4.3 inch TFT Color LCD, 5 XML programmable context-sensitive soft keys, and dual Gigabit network ports. It offers fully integrated PoE, an Electronic Hook Switch (EHS), and 4 GXP2200EXT modules to view an additional 160 contacts. The phone's language can be customized for global use.
The GXP2140 delivers HD audio quality on both the handset and the speakerphone. This is a strong plus for OnSIP customers, because the phone will allow them to take advantage of our platform's advanced HD voice capabilities.
Panasonic KX-UTG300B
Ultimately, the Panasonic KX-UTG300B is breaking down the barrier between desk phones and smart phones. Though its touch screen functionality does not apply to user input, the 300B is nevertheless taking a step in the right direction, making it easier for users to operate the device. Furthermore, the HD Voice quality is excellent, perhaps surpassing even the best phones on the market.
Besides including all the necessary functionality of a standard desk phone, the 300B offers enhanced capabilities with features such as Bluetooth compatibility. Although we're not fashionistas, it helps that the 300B looks aesthetically pleasing, coming with a sharp design that conveys its advanced operability in a tactful way. In short, just about the only downside to this superb phone is that it will put you back about $230 per unit.
Polycom VVX 600
The Polycom VVX 600 is an upgraded version of the Polycom VVX 500, the first phone we reviewed out of Polycom's expanding line of Business Media Phones. The two phones are nearly identical in build, except that the newer VVX 600 has a larger capacitive touch screen (4.3" wide, 480 by 272 pixels versus the smaller VVX 500's 3.5", 320 by 240 pixels).
Like the VVX 500, the 600 comes with an RJ-9 headset port, and two USB ports. The VVX 600 supports 16 line appearances, 4 more than the VVX 500. Visually, this phone is just as impressive as the older 500
Grandstream GXP2200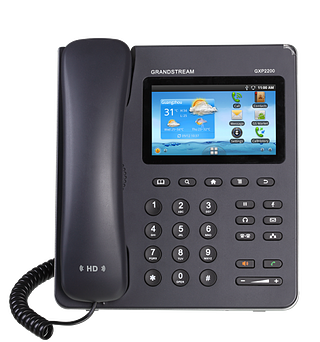 The Grandstream GXP2200 is packed to the brim with features. The phone supports 6 lines for up to 6 SIP accounts, HD wideband audio, PoE, Bluetooth, and Electronic Hook Switch with Plantronics headsets. The phone doesn't come with it's own built-in camera, but it can receive video out of the box from IP surveillance cameras not unlike Panasonic's KX-UT670.
The USB port on the back of the phone allows users to connect a third party camera to send outbound video. Other ports include dual switched auto-sensing 10/100/1000Mbps network ports, an SD port, and a port for RJ-9 headsets.