Todd Reifenrath, Co-Founder and Vice President at Webitects, tells OnSIP about their switch to VoIP. Based in Chicago, Webitects is a user-focused website design and development firm with an impressive portfolio, including work with Wikipedia. In dire need of an updated phone system, Webitects found everything they were looking for in OnSIP.
What is Webitects?
Webitects is a user-focused website design and development firm. We build websites for a broad range of clients throughout the United States including many non-profits, foundations, and associations. We enjoy long-lasting relationships with our clients by helping them focus on what's important (their website's users!) and execute long-term strategy.
How many offices/ employees do you have at Webitects?
Our staff of 16 is predominately located in our primary office in the Chicago loop (Chicago's central business district). We also have a couple of remote employees (one in Denver, Colorado and another in Taos, New Mexico).
When was Webitects established? How does hosting now, compare to then?
We began building websites in 1995. Early on, you could look at most websites and determine whether they were built by somebody with a design or technical background. Those built by designers tended to include a lot of big pictures and were often laid out like a printed piece. Those built by developers typically didn't look as nice and were likely to include interactive widgets that developers like to use to show off their technical abilities.
Our philosophy blends design and technical skill sets to create a balanced approach. Like an architect must understand aesthetics (e.g. visual appeal, comfort, and environment) and engineering (e.g. structural integrity, mechanical systems, and building materials), we believe the best websites are built by firms that understand user research, user experience, visual design, content management and maintenance, search engine optimization, website hosting, and integration with third party systems. We coined the term "webitect" (a play on the word "architect") to capture our philosophy.
We have transitioned from educating prospective clients as to why they needed a website (in our early days) to a firm that is recognized for our ability to design and build websites that serve their intended audience, are easy to maintain, and that emphasize usability and the user experience.
What are your future goals at Webitects?
Since our inception, our overriding goal has been to build websites that serve users as well as possible. This often involves information gathering and definition of requirements that are unexpected. By interviewing stakeholders and end users early in our projects we often discover unmet or unstated needs that websites should address. The upshot is happier end users and stakeholders.
Over the years we have gained extensive experience working with non-profits and associations. Our philosophy, process, and skills serve this audience well. In recent years we have created a web-based association management system (AMS) allowing our clients to manage their membership data (e.g. member profile maintenance, membership applications, dues, event registration and management, abstract submission and review, and mobile meeting websites) using a highly customizable system that is seamlessly integrated with their website. We hope to bring our AMS approach and web design services to many new clients in the coming years.
What kind of phone service did you have previously? Why did you look to change?
Years ago we had an antiquated analog system. The phones were very old and the system lacked features beyond the ability to transfer from one extension to another. About ten years ago we replaced that system with a new analog system during an office move. The system and phones were from Vodavi. The system worked well.
Due to the nature of our business we are tech-savvy and had become aware of VoIP offerings. Initially we were pragmatic and thought continuing with our analog system was less expensive. As the cost of VoIP decreased and the features of sophisticated VoIP systems became more accessible it became an easy decision for us to make the switch.
We were particularly interested in the following:
The ability to get rid of all of our land lines and stop paying for traditional phone service.
The distributed capabilities of a VoIP system (e.g. remote extensions).
Cool system features like the ability to easily forward an extension to another phone, voice mail notification via email, and HD sound quality.
Finally, the ability to manage the system through a web-based control panel was familiar and comfortable. Switching to VoIP has saved us money and allowed us to take advantage of the features of a sophisticated phone system that we likely could not afford if we were to own and manage the system ourselves.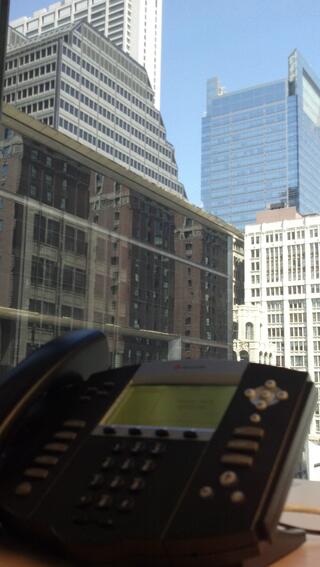 Did you compare us to competitors? If so, what were you looking for in a phone service/system?
We looked at a handful of providers and eventually found OnSIP to offer a nice combination of affordability and system features. We tried a phone for a couple of months and were pleased with the service and support. After the trial we couldn't wait to roll out new phones to our entire staff.
What kind of phones do you have? What are your favorite OnSIP features?
Most of our phones are Polycom SoundPoint IP 550s. We also have a couple of Polycom SoundStation conference phones. The sound quality is much better than our previous analog service. It's uncanny at times...you almost feel like the person you are speaking with is sitting next to you.
Maintaining our old phone system was a chore. Adding a new extension often felt like trial and error. Making such changes using the OnSIP control panel is a breeze (it's almost fun) and has enabled less technical staff to manage our system.
Finally, receiving an audio recording of voice messages via email is wonderful. We no longer worry about checking voice mail when away from the office since we know such messages will land in our email inbox.